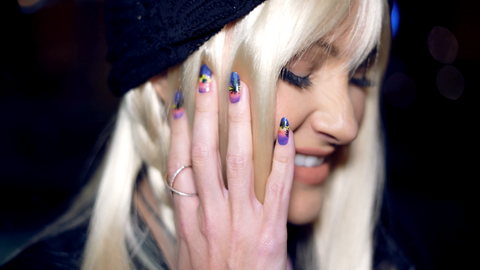 Los Angeles is a city that scintillates whenever the name crosses our minds: it conjures up dazzling visions of wondrous cinema, iconic postcard scenery, and the throbbing heart of pop culture. We tend to forget the humble origins of one of the most glamorous cities in the world: Sunset Boulevard was once a small, 600-foot dirt road and the renowned Hollywood sign originated from a housing advertisement. This 2021 collection of nail stickers bridges both the authentic history of the iconic city and also the contemporary, passionate dreams that carried it into the future we now live in. The City of Angels may not bear any divine presence, but holiness can also be found in the multitudes who come to watch the sky transform into pastel hues over the boulevards, or to see the galaxy below in the Walk of Fame, and find freedom at the wind-swept hill bearing the heavy beams of the Hollywood sign.
This collection embraces all the many facets of Los Angeles. If you're looking to admire the classic imagery of LA, Sunset Boulevard offers the unforgettable palm tree silhouettes against a breathtaking pastel sky, while Long Live Hollywood unveils a monochrome pattern reminiscent of vintage fashion once paraded by enchanting starlets like Audrey Hepburn and Hedy Lamarr.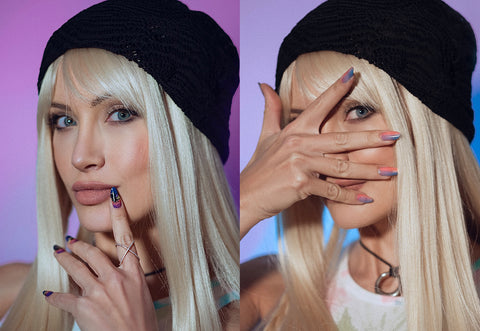 If you prefer the aesthetic of modern history and the beauty of diversity then this collection also boasts other unique designs such as  Welcome to Tinseltown, where extraterrestrials are invited to land their spaceships and talk a stroll Mulholland Drive together; or City of Angels that visualizes the evocative name in celestial beings falling from the heavens like shooting stars. Eye-catching new apparel and warm weather fashion trends are as reliable as the beautiful sunset setting daily over the Pacific Ocean. There is also Rainbow Pride, a bright palette that celebrates the city for being the site of the first permitted gay parade in 1970, a momentous event that is repeated each year where thousands gather in Los Angeles to proclaim the boldness and triumph of their love.