Can Men Use Gel Nail Manicure Strips?
 With Father's Day coming very soon and with June's LGBT Pride Month generating more conversations about traditional gender roles, it is an interesting time to discuss about nail pedicures for men. While men historically have not worn nail polish or gel strip manicures, more and more are doing so in recent years. So this Father's Day, maybe have some fun by introducing your gel nails to your husband/boyfriend/other man in your life. If anything, it can lead to some silly and entertaining fun in stressful times.
Why are Male Gel Nails Not Common?
It is a bit surprising why so few men where nails. But it is a lot to do with cultural norms that this is the case. Traditionally, it is not as commonplace for guys to use makeup, jewelry, and other similar stylings – perhaps because it is more socially acceptable for men to look natural and to not spend time on beauty products. This starts from a young age, where boys may face bullying from doing so. There are a few exceptions - like wedding rings and some hair products – but in general perhaps there is a fear of standing out or getting negative attention from friends, family, or in the workplace.
In parts of Asia, including Korea and Japan, there is more common use of men buying cosmetic products – generating billions of dollars per year from males in the industry. However, in western countries until recently, it had not caught on nearly as much.
Growth of Nail Colors on Men in Hollywood
In recent years, there has been growth in this area however, led by a wide range of celebrities who have used nail polish and gel nail wraps. This started a lot from the music industry – going back to David Bowie, as well as Kurt Cobain and some of the 1980/1990's punk band movement - that brought big changes to how people perceived fashion among nails and other male cosmetics. In the last few years, this has expanded even further, with a large number of a-list male celebrities rocking nail manicures at various times, including:
Brad Pitt
Harry Styles
Johnny Depp
A$AP Rocky
Keith Richards

Jared Leto

Marc Jacobs

Brooklyn Beckham
These are just a few of the men who are famous and have been seen with nail art. In addition to them, a wide range of other lesser known people have warmed to the idea, and the trend seems like it will continue to grow more and more as acceptance continues to be gained.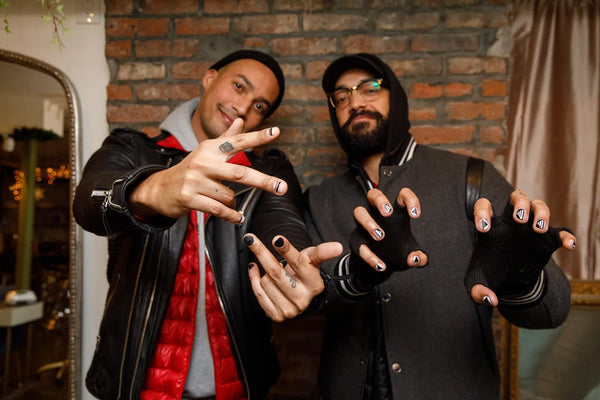 Suggested Nail Designs for Men
Danni & Toni nails are made to be used by anyone, regardless of age and gender. While by far our customer base is more female-based, there are also more men placing orders in recent times, which is great to see. Therefore, we have suggested a few semi-cured nail products that men might want to use to start out with, depending on their personality and level of expressiveness.  
1) Start With Solid Colors
To begin with, solid colors are a great option to try to show your personality and also make your nails more attractive. A beige or nude option could be the way to go for your first try as a man, because you will get the feel and benefit of them without being too obvious. Then if you are more outgoing, you can also step it up to another color like red or black.
Shop solid color nail strips at Danni & Toni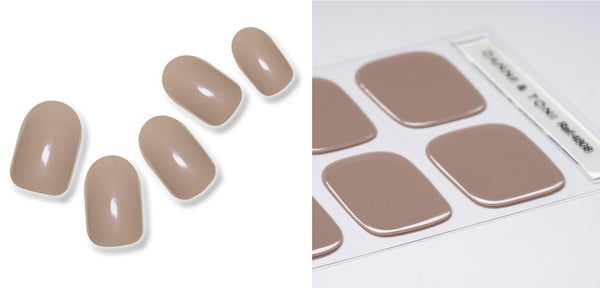 2) Try Some Fun Patterns
After being comfortable with some solid and more conservative designs, why not venture out into some fun art patterns? While a number of them may be a bit feminine-targeted for many men, there are a ton of other great designs that can work perfectly for either gender. Many are based on holidays and occasions, so can bring a lot of fun to yourself and those around you by giving them a try.
Take a look at the wide range of art pattern nails
3) Venture into Pedicures
Another idea is to try pedicure nails to start. Afterall, its likely most people won't be seeing your bare feet anyway, unless you are outside in the summer. This can be a way to get used to and experiment with some fun and different designs! We recently posted about selecting a perfect gel pedicure, which will be an ideal place to begin seeing some ideas.
See the full line of pedicure gel nails 
In Conclusion
All-in-all, in today's more open world, it is not very surprising that more men are interested in using nail art stickers and other nail manicure accessories. This trend will likely continue to grow through the coming years, so why not give it a try and see how it works for you, or someone you know!